Junior Technical School Sivasgar Admission 2023 – Directorate of Technical Education (DTE) Assam has released a notice regarding admission into First Year of Technical School Leaving Certificate (T.S.L.C) course at Junior Technical School Sivasagar for the session 2023-24 and more latest update visit our official website Assamjobupdates.com
Junior Technical School Sivasgar Admission 2023
The course of T.S.L.C is equivalent to the H.S.L.C As well As Industrial Training Institute (I.T.I) of Assam
Name of course: Technical School Leaving Certificate (T.S.L.C)
Duration of course: 3 years
Academic session: 2023-24
Subject & trade
Humanities, Mathematics, Physics, chemistry, Electrical Engineering, Mechanical engineering and engineering drawing with special Trade in Machinist, filter, turner, welder, carpentry, blacksmith, molder and pattern maker
Read also – DME Assam Paramedical Admission 2023
Read also – AIIMS B.Sc Nursing & Paramedical Admission 2023
Eligibility Criteria for Junior Technical School Sivasgar Admission
a. Candidate must be a permanent resident of Assam.
b. Candidate have to pass class-VIII from any Govt. Recognized Board/Institutions.
c. Age limit : Age in between 14 to 17 years of age on 01-01-2023
d. Candidates should be medically and mentally fit for intensive workshop training and should have aptitude for becoming craftsman for taking as skilled workers.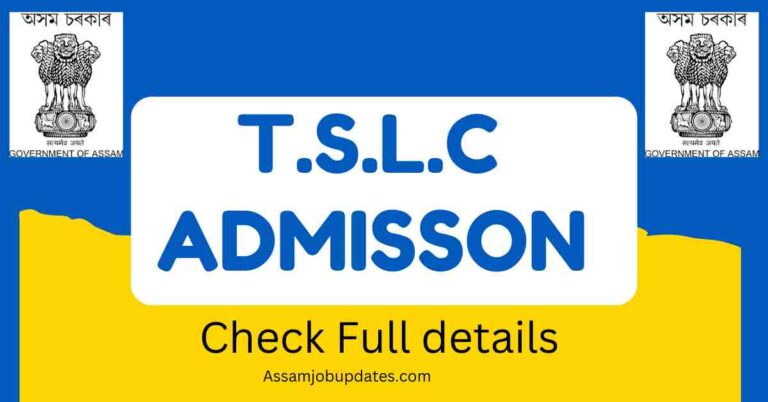 Selection process for T.S.L.C Course 2023
Name of Test: Admission Test
Candidates have to appear on the subjects Mathematics & English on the basis of class-VIII syllabus
Process of admission
On the basis of the merit marks of the admission test.
Fees and dues
a. There is no tuition fee
b. Students have to pay annual dues as fixed by the authority from to time.
Certificate awarded by the SCTE, Assam
On successful completion of the course student will be awarded technical leaving school certificate with the trade specialization of any one of the above trade taken by the student
Equivalency
The technical school leaving certificate is equivalent to high school leaving certificate awarded by the board of secondary education, Assam and it is also treated as equivalent to industrial training institute. Pass certificate awarded by the directorate of employment and craftsman training Assam from the craftsman point of view.
Upgradation
After passing the technical school leaving certificate course the student may purse diploma courses by appearing polytechnic admission test conducted by the state council for technical education Assam directorate of technical education Assam on the basis of merit marks of the test
How to apply for T.S.L.C course 2022
Application form will be available in the office of the superintendent of junior technical school Sivasaga and Dully filled up from will be received by the superintendent of junior technical school Sivasagar within 3 weeks from the date of publication of the educational notice
Important dates
Date of submission application: within 3 weeks from the date of publication of the educational notice
Notice published: 03-March-2023
Notification – Click here